History of SAARC Forestry Centre (SFC): Bhutan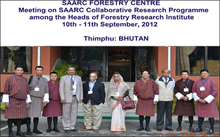 During the Third SAARC Summit (Kathmandu, 1987), leaders of the SAARC Member States were deeply concerned by the fast and continuous degradation of the environment including extensive destruction of the forests and the resulting natural disasters. Subsequently the leaders commissioned a study on the Protection and Preservation of the Environment and the Causes and Consequences of Natural Disasters. The recommendations of the Expert Group who finalised the format of the Study were endorsed by the Heads of State or Government at the Sixth Summit (Colombo 1991).
The Fourth SAARC Summit (Islamabad, 1988) noted with serious concerns the extensive damage caused in many SAARC Countries during the year due to unprecedented floods, cyclones and earthquakes. The leaders recalled their earlier decision to enhance regional cooperation with the view to strengthening disaster management capabilities. They then urged that a Study on Greenhouse Effect and its impact on the Region should be completed urgently which would then provide a basis for an action plan for meaningful cooperation among the Member States.
The Fifth SAARC Summit (Male, 1988) was satisfied with the methodology recommended for the Study on the Greenhouse Effect and it Impacts on the Region. The study was finalized in 1992. The Study had the following components:
1. Regional measures in sharing experiences, scientific capabilities and information on climate change; and
2.Global collaboration in Monitoring Climatology, Sea Level Rise, Natural Disasters, Technology Transfer, Finance etc.
The Seventh SAARC Summit (Dhaka, 1993) recognized the completion of the Study as a very significant step towards promoting regional cooperation in this vital area.
The Third Meeting of the Environmental Ministers (Male, 1997) adopted the SAARC Plan of Action on Environment based on the two studies outlined above.
The Fourth Meeting of Environment Ministers (Colombo, 1998) recalled various major international instruments and declarations on environment and noted the importance of enhanced cooperation in sharing information in the region to promote effective management of the environment for the benefit of all the member States.
However, no common institution in the area of forestry and environment was established for the SAARC countries to deal with common issues related to forest and environment.
The SAARC Action Plan on Environment provided basis for the establishment of the SAARC Forestry Centre in Bhutan as one of the Centres of Excellence in the field of environment.
Funding Mechanism:
1. Capital Costs – 100% borne by Host Government
2. Institutional Cost – 40% borne by Host Government and 60% through Membership Contribution.
3. Programme Cost/Budget – 100% Membership Contribution on sliding scale based on the Economy size of the Member States.